ThunderSpin heading to Italy
ThunderSpin heading to Italy with its portfolio of games
Monday, May 18th, 2020 – Slots studio ThunderSpin heading to Italy. It is preparing to enter the Italian iGaming market for the first time.
The supplier's content has been certified under iTechLabs, with a range of its best-performing titles all ready to be launched by no later than the end of Q3, 2020.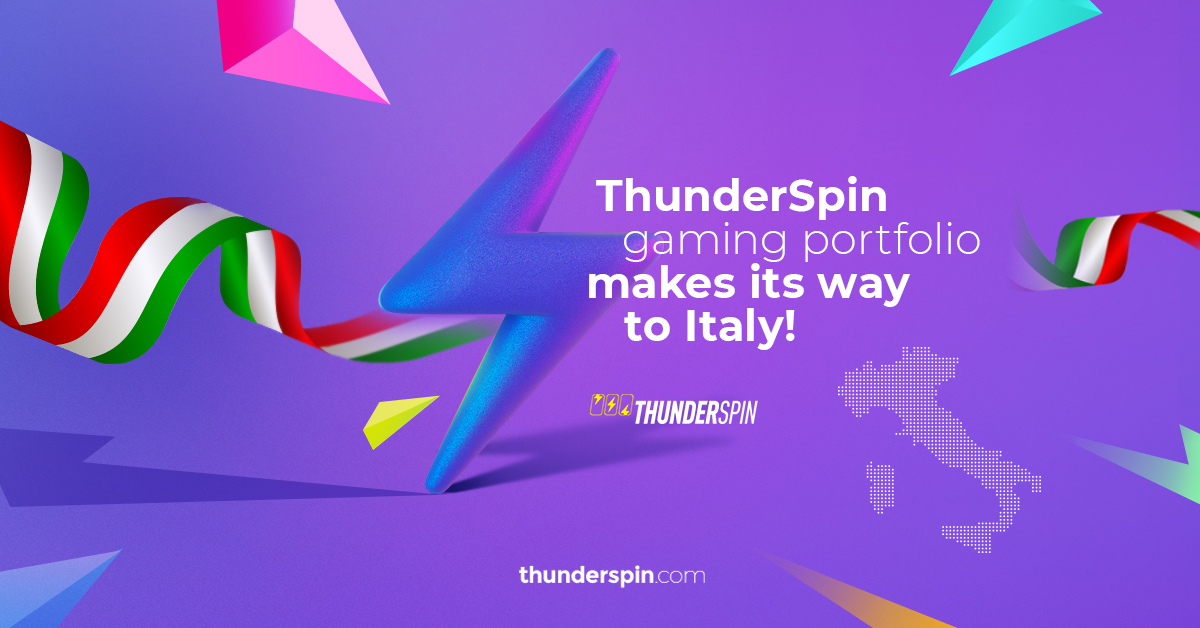 "Entering the Italian market is another milestone for ThunderSpin as we continue to establish ourselves within regulated markets and undoubtedly, ThunderSpin would be an immense add-on to operators that will be targeting Italy" commented Jeff Letlat, ThunderSpin's CEO.
ThunderSpin heading to Italy with a few of their most popular titles
Angels vs Demons is set during an epic confrontation between the powers of light and darkness. Each side moves their armies towards each other to meet and trigger the Free Spins bonus game on the side of light or on the side of darkness. When the forces of Heaven and Hell meet in the centre, an epic hyper-valuable Totem bonus game starts. Play Angels vs Demons in Demo mode.
Money makes the world go round. Dive deep into a world of cash, golden coins, wallets and bags full of riches. Make money spin around you. Collect Dollar symbols to trigger bonus games and Golden Key symbols to win higher rewards. Play The Money in Demo mode.
Vikings: Frozen Gods is an epic journey into the cold, dark lands of the Far North. Venture forth into a cold, unforgiving land to fight enemies and carve out territory for kin and clan and all in the name of the Gods of Valhalla! Play Vikings: Frozen Gods in Demo mode.
If pyramids are your thing, dare to throw yourself into the Egypt Story in a slot inspired by the history of an ancient land! Journey through the hard desert to find the lost city of Egypt. Crawl inside caves full of dangerous traps and finally, find the cursed treasure. Maybe you won't survive – but what if all the ancient Egyptian Gods – from Anubis, Osiris, Horus, Isis – are there to help? Play Egypt Story in Demo mode.
Strap yourself to the pilot's seat of your spaceship and get ready to jump into light speed! With Stellar, you will easily find yourself pulled into the space-journey atmosphere due to a few excellent design choices: symbols are revealed with a fast-zooming animation with an accompanying sound while electric lightning blasts and colourful swirls light up the starry sky when you stumble upon new treasures. This is a Stellar slot indeed and best enjoyed on Autoplay for speed and excitement. Play Stellar in Demo mode.
About ThunderSpin heading to Italy
ThunderSpin is a world-class independent game studio that develops high-quality, modern slots. The company develops games in a high standard coding language to provide seamless multi-platform performance. ThunderSpin also adapts the resolution of our games for different regions, so they are suitable in multiple markets. The international team includes 20 highly-skilled developers with about 10 years of experience under their wing. For more information about ThunderSpin, please visit ThunderSpin.com.