Pyramids! Innovative new slot game!
Discover the Aztec adventure in Pyramids, ThunderSpin's brand new slot game!
ThunderSpin welcomes its latest new and exciting slot game set deep in the Aztec jungle. The player hunts for gems, golden statues and other treasures in Pyramids, where the ambience, colours and themed music are guaranteed to exhilarate.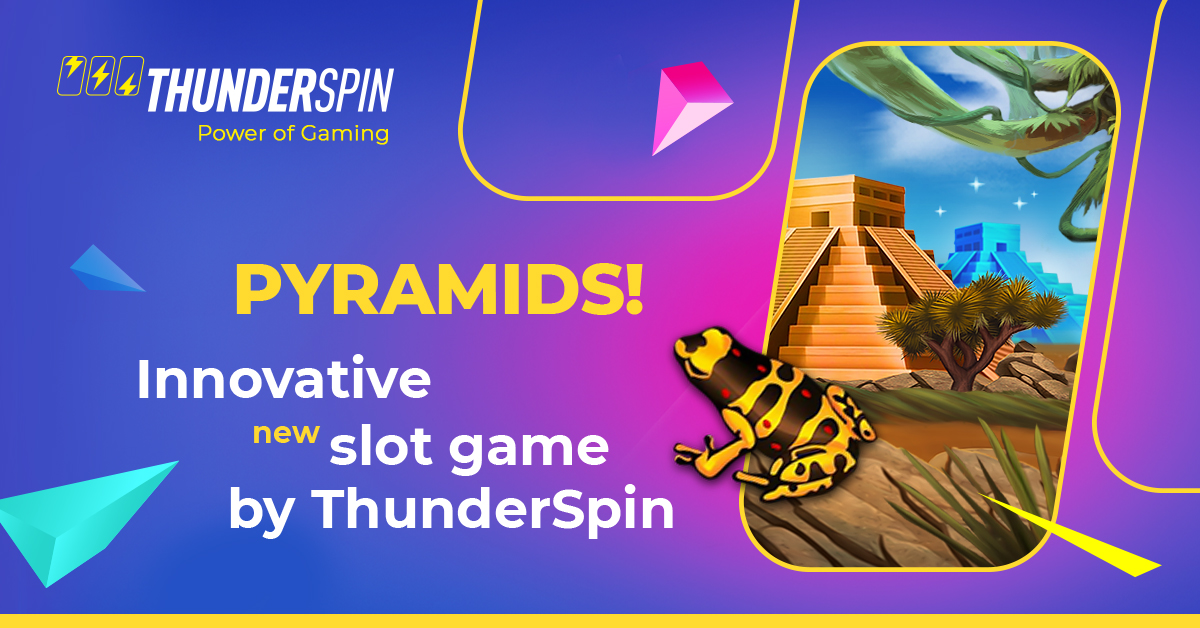 With a background of clear and blue sky and lush vegetation, this slot game combines five reels with three rows and 21 paylines.  To the tune of drumbeats and jungle sounds, the player matches Frog, Eagle, Llama and various other theme-based symbols to comprise winning combinations.  The thrill intensifies when you obtain three pyramids as this will activate the Pyramids Bonus game.
Amidst beautiful graphics portraying a colourful pyramid and striking landscape, a random multiplier of the bet awaits, which you can replay three times. If a player wins the maximum multiplier (x100), another bonus game is automatically triggered – the Super Bonus game.
In this section, the game transports the player to the inside of the Pyramid's mysterious darkness. Emblematic blocks vanish, cells holding priceless gems and other iconic symbols replace them, and the player obtains an extra reward. The change to more dramatic music further enhances the experience of the highly volatile Pyramids slot.
Throughout this original and enthralling game, the player will be given the option to Gamble in order to have the possibility of increasing their winnings.
The Pyramids slot is the new relaxing and intriguing game from ThunderSpin. It is certain to delight, enchant and keep players coming back for more. Pyramids is an excellent, highly entertaining slot game with immensely attractive graphics and winnings of up to x1000 of the player's wager. Check demo now!
About ThunderSpin
ThunderSpin is a world-class independent game studio that develops high-quality, modern slots. The company develops games in a high standard coding language to provide seamless multi-platform performance. ThunderSpin also adapts the resolution of our games for different regions, so they are suitable in multiple markets. The international team includes 50 highly-skilled developers with about 10 years of experience under their wing. For more information about ThunderSpin, please visit https://thunderspin.com.